Mia graduated from Obiyama Elementary School on March 21st. The song you hear as the background music in the video was one of the songs Mia's class sung at the ceremony (taken from my video camera). It's been a while since Leon's graduation ceremony and I had forgotten how involved such ceremonies are. In addition to handing out the certificates (diplomas), there were several speeches, introductions of visiting VIPs, songs sung and group recitations done by the graduating class, songs sung by the fifth graders (wishing their upperclassmen good luck), a song from the faculty to the graduating class, and then after the ceremony, each homeroom met with their homeroom teacher. After the last homeroom meeting, the graduating kids and their parents paraded through flower-covered wire arches held up by the fifth graders. Then, Mia and Mariko attended a party for everyone in Mia's homeroom class! Including the slideshow that came before the ceremony formally started and the homeroom meetings afterwards it was about three hours! With the party, graduation was a day-long affair. By the way, the ribbon you see Mia holding to one side of her head toward the end of the video is the same length as the difference between her height when she started first grade and her current height. The school nurse measure, cut, and tied these ribbons for each and every child by hand! Everyone at the school has really gone all out for the kids and, as parents, we are very grateful.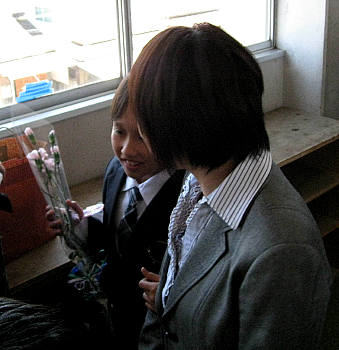 After the ceremony, Mrs. Matsuda (Mia's teacher), classmates, and parents met briefly in the classroom.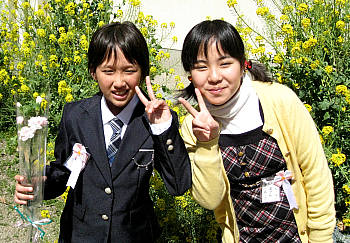 Mia with her friend, Arisa.