Mrs. Fujiwara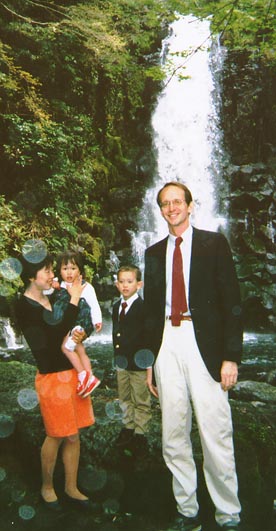 These pictures were taken on March 28th when Mrs. Fujiwara was here to visit. Mariko took tea ceremony lessons from Mrs. Fujiwara when she was a college student. They have continued to correspond ever since.
Mrs. Fujiwara was especially kind to Leon and Mia, bringing them lots of nice presents that they continue to enjoy today. Mia, in particular, took to her very quickly.
This day we did some sight seeing in the Aso area. On the way back we stopped by this waterfall, called Shiraito Falls. It's a very nice place. I also took my parents there in the spring on 1997. My father seemed to enjoy it particularly.
Leon is wearing the suit he got for his "graduation" from kindergarten. All of the kids dressed up like this. He wore the same suit to a ceremony held to welcome kids to elementary school. We knew he wouldn't have many opportunities to wear it so we let him (he actually wanted to) dress up. I wore similar colors, just to go along.
We forgot to bring our camera so we picked up a disposible one. I think the pictures came out pretty well, though.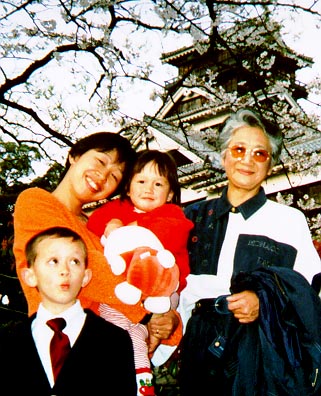 The second picture shows Leon, Mariko, Mia and Mrs. Fujiwara near Kumamoto Castle. Kumamoto Castle is famous all over Japan for the many cherry trees on the grounds. We were luck to catch the blossums at their best before it got dark.
Leon has a habit of making funny faces when someone tries to take a picture.