「ジェーンズの会」
Janes Promotion and Education Society
The Janes Promotion and Education Society was formed in 2010, the year after the 100th anniversary of Captain L.L. Janes' death in 2009. It serves to foster the memory of the important works left by Janes to the city of Kumamoto, Japan, and to promote further research into his life and contributions.
For further information: Contact Judy Yoneoka judy@kumagaku.ac.jp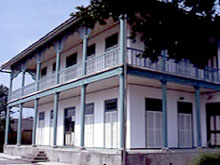 About Janes' Residence Home of Kumamoto's First Western School Teacher
Janes' residence (home of Kumamoto's First Western School Teacher) was built in October, 1871, and is the oldest Western-style building in Kumamoto. It was the home of Leroy Lansing Janes and his family, who were brought from America to teach at the first Western School in Kumamoto.
Janes was born in New Philadelphia, Ohio, in 1837 and died in San Jose, California on March 27, 1909 at the age of 72. He graduated from West Point Military Academy in New York, and participated as an artillery captain on the Union side in the Civil War under President Lincoln, fighting for the emancipation of slaves. After the war ended with the victory of the Union army, Janes came to the conclusion that being an army officer when there was no war was useless. Moreover, having destroyed his physical condition in the long war, he quit the army and moved with his wife Harriet and newborn daughter, Elizabeth, to Saint Dennis , Maryland, where he took up agriculture at Elk Ridge farm.
Meanwhile, it was the end of the Edo era in Japan, and a great person and forward thinker lived in Kumamoto, then called Higo. His name was Yokoi Shonan. He was employed as a councilor to Matsudaira Shungaku, feudal lord of Echizen (present-day Fukui prefecture), and professed in both Fukui and Edo the necessity of making a new Japan. It is for this reason that Kumamoto and Fukui are sister cities today. He sent his two nephews secretly to the U.S.A. to study in 1866. When his younger nephew Daihei returned in autumn 1869, he urged the Higo domain leader Morihisa Hosokawa to begin a Western School with a foreign teacher. Hosokawa accepted the advice, and created a school to teach English and Western learning to boys in Kumamoto, in order to make a new Japan. It was then that L.L. Janes was brought from America to become a teacher there.
In its first year, the Kumamoto Western School received some 500 applicants aged 10 to 15 years old, but only 46 boys were admitted after rigorous examination. In the five years of its existence, approximately 200 students entered the Western School altogether.
Janes taught these students in English only, without interpreters. The students struggled hard to understand the American whom they had met for the first time in their lives and who did not use Japanese at all, but they made so much progress that their fame spread throughout the area.
His teaching methods included thorough grounding in the basics through self-study. Rather than answering questions directly, it was his policy to have students think deeply and consider the answers to their questions by themselves. During self-study, Janes was strict and students could not speak a single word, but even so his supervision was full of love. In addition, his teaching method included daily examinations and change of seating arrangements based on their results, and everybody studied seriously.
The Kumamoto English School was also probably the first public school in Japan to practice co-education. In 1875, in its fourth year, Janes admitted two girls into the school: Hatsuko, the older sister of his student and future journalist Soho Tokutomi, and Miyako, Shonan Yokoi's daughter. At this time, elementary school education for girls was just beginning to be accepted in Japan, but traditional Confucian values still dictated separate classes and curricula.
Also, in its third year, Janes began meetings at his home to study the Christian Bible. Many students were inspired by his meetings to become earnest Christians. On January 30th, 1876, some 35 students climbed Mt. Hanaoka near Kumamoto Station and, after singing hymns and reading from the Bible, they signed a solemn oath to band together in Christian fellowship and spread Christianity through Japan, which they believed would help save the country. At that time, Christianity was detested and depreciated, and the families and relatives of the boys were shocked and dismayed at this oath. The boys were greatly persecuted and urged to dismiss Christianity, but their belief and determination were firm. This event led to the closing of the Western School, however, with the final graduation ceremony in July, 1876.
Janes, however, recommended his students to move on to the Doshisha, a new Christian school which Niijima Jo had just opened in Kyoto upon his return from study in the U.S.A. Many of the students gathered at the Doshisha, and with their education from Janes for four years or five years, showed both leadership and academic excellence. The teachers of Doshisha came to call these former students of Janes who had come from Kumamoto the "Kumamoto band", which, along with the Sapporo band and the Yokohama band, Japan's three biggest Christian groups in the early Meiji era. The people from this band were to become future leaders in Japanese Christian, educational, and business circles.
Janes was also instrumental in bringing needed reforms to the feudalistic society that had resulted from the long national seclusion policy. The vegetables grown in Kumamoto were few and lacked nutritive value, so he ordered many new kinds of vegetable seeds (such as cabbage, cauliflower, and lettuce) from the U.S.A. and cultivated them in Kumamoto. In addition, he himself killed a cow in order to feed the Western School students, who were often suffering from malnutrition, a hearty beef and vegetable stew. This was the first time for people in Kumamoto to taste beef, milk, and bread. He taught methods of grafting and harvesting mandarin orange trees, making selective breeding possible. Janes also introduced efficient agricultural methods, such as using domestic animals to plow the fields with horse and ox-drawn plows, which had been done by human hand before his arrival. Moreover , the printing press which he ordered from the U.S.A. was used in the publication of the Shirakawa newspaper, which became the second-largest news publication in Kyushu. Thus, L.L. Janes made a great contribution to the modernization of Kumamoto, not only as a teacher of the Western School, but in many other ways as well.
The Seinan Rebellion, Japan's final Civil War, began in February, 1877. With Kumamoto as a major battlefield, Arisugawanomiya Taruhitoshinno took over Janes' residence as the governor-general of the Imperial Army. In the wake of the terrible war, councilor Sano Tsunetami from Saga wanted to care for the wounded on both sides, and requested permission to establish a philanthropic society called Hakuaisha from Arisugawanomiya. When Sano received permission for the charter on May 3, it is said that he broke down and cried for joy. The Hakuaisha set up makeshift hospitals at the Tokunari Temple in Konoha Town or in private homes near Tabaruzaka (north of Kumamoto), the scene of some of the fiercest battles of the rebellion. There they tended approximately 1,400 wounded soldiers both from the Imperial army and the Satsuma Rebel Army. The Hakuaisha grew and afterward, as a result of Sano's tenacious efforts, the Japanese Government signed the Geneva Convention in 1886. In 1887, the Hakuaisha joined the International Red Cross and changed its name to the Japanese Red Cross Society. Because permission for Hakuaisha was granted on the second floor of this Janes' Residence, it is also known as the birthplace of the Japanese Red Cross. There is a memorial to this event in front of the building, which reads "a hand of the love, was made Red Cross centenary of the birth in Japan forever".
Janes' Residence was originally built in the Kojo area near Kumamoto Castle, where the Kumamoto Dai-ichi High School now stands. When the Kumamoto Prefectural Government Building was built in Minami-sendanbata in 1887, Janes' Residence was moved next to it and used in turn as a exhibition hall for local products, a temporary school building for the prefectural girls' school, and the lodgings of captured Russian officers during the Russo-Japanese War. It was moved to Suidocho (near downtown Kumamoto) from 1932 and was used as a prefectural branch of the Japan Red Cross and blood donation center. It moved to its current location in Suizenji in 1970, and was designated as a Kumamoto important tangible cultural property.
Opening from 9:30 a.m. to 4:30 p.m.
Closed on Mondays (or the following Tuesday if Monday falls on a holiday), and from December 29 to January 3.
Entrance: 200 yen / adult, 100 yen / child (through junior high school)
Address: 22-16 Suizenji, Kumamoto 862-0956
TEL / FAX: (096) 382-6076
Free onsite parking available (10 spaces)